Pubblications
Cisei collection "Dal porto al mondo"
"Dal porto al mondo" (Edizioni Diabasis) is a collection promoted by CISEI and coordinated by Antonio Gibelli. It focuses on Genoa as port of embarkation for migrants, a metaphorical place of transit, and a crossroads of communication between Italy, the Americas, and the rest of the world. The collection includes tales of journeys, autobiographical texts and memories, letters in which the roads of diaspora come alive through the subjectivity of the protagonists and the written traces of their experience.
Publications:
Sull'Oceano (2005)
by Edmondo De Amicis
(Riedition by Giorgio Bertone).
La Babele nella pampa (2005)
by Vanni Blengino.
L'America gringa (2008)
by Emilio Franzina.
Un baritono ai Tropici (2008)
by Alessandra Vannucci.
Tra l'Appennino e l'America (2011)
by Marco Portaluppi.
FUORI COLLANA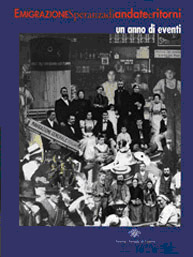 Emigrazione. Speranza di andate e ritorni. Un anno di eventi
(2005)
by Silvia Martini and Fabrizio Cecchet.
PAPERS, ARTICLES AND PARTICIPATIONS
Fabio Capocaccia "Centro Internazionale di Studi sull'Emigrazione Italiana – CISEI – and the Computer Archive of Italian Emigration" in H. Stornaug, B. Lambkin (a cura di), AEMI Journal 2010, Annual conference of AEMI, pp. 24-31, Aalborg (Denmark) 2010.
Francesca Goglino, Carlo Stiaccini "Affentheater: Italian Itinerant Migration around Europe between Ninteenth and Twentieth Century" in H. Stornaug, B. Lambkin (a cura di), AEMI Journal 2010, Annual conference of AEMI, pp. 74-90, Aalborg (Denmark) 2010.
Fabio Capocaccia "Il viaggio dell'emigrante: verso un archivio nazionale informatizzato" in Nicosia A. e Prencipe L. (a cura di) Museo Nazionale Emigrazione Italiana, pp. 186-205, Gangemi Editore: Roma, 2009.
Carlo Stiaccini "Col mare in coperta si fa rotta per New York" in Campodonico P. (a cura di) La Merica. Da Genova a Ellis Island il viaggio per mare negli anni dell'emigrazione italiana, pp. 98-107, Sagep Editori: Genova, , 2008.




@ Copyright Cisei 2006-2022