CISEI - International Center for Studies on Italian Emigration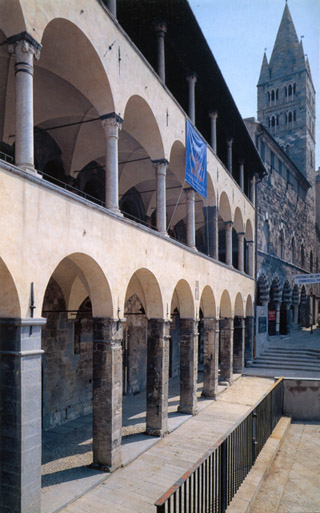 CISEI has been created in Genoa, historical port of departures of the big transoceanic migrations, to preserve and enhance the value of memory on Italian emigration, with the double aim of creating a documental national archive of the Italian historical emigration and to establish contacts with national and international study centres and museums active on migration issues, both at a local-regional level in Italy, and at international level in Europe and around the world.
The Port Authority of Genoa launched the project in 2001. During the subsequent years, the port gathered all public institutions from Genoa and Liguria together with Genoa University and the world of researchers, setting-up a promoting committee that worked towards the creation of the research centre. On the occasion of Genoa 2004, European Capital of Culture, the Port Authority contributed to the programme with a varied calendar of initiatives on Italian emigration in the world. In July 2005, the promoting committee inaugurated the Head Office in the historic building of the Commenda di Pré. A year later, on June 12, 2006, CISEI became a reality and was established as an Association, with a Statute, an Assembly, a Board and a Scientific Committee which includes as members some of the most outstanding scholars and researchers in the field in Italy and abroad.
Today CISEI collaborates and has relationships with other study centres, institutions and Italian museums and is member of AEMI (The Association of European Migration Institutions) an Association of study centres, institutions and European museums interested in migration.
At the international level, CISEI has established cooperation channels with CEMLA - Centro de Estudios Migratorios Latinoamericanos - (Argentina), Memorial do Imigrante di São Paulo (Brasil) and Castle Garden - The Battery Conservancy (U.S.A.).
CISEI is now building a KMS (Knowledge Management System) aimed at the creation of the first On-line Archive on Italian Emigration, with names, dates, pictures and documents in continuous updating, also with the contributions of its users.










@ Copyright Cisei 2006-2016